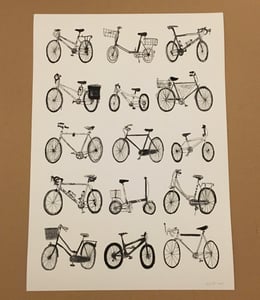 £

15.00
15 lovely bikes. A celebration of bicycles, originally rendered with Japanese dip pen and brushed inkwash, then professionally printed on 180gsm Matte, non reflective paper. It's very nice. Will look great on your wall.
Drawn as part of inktober, I wanted to explore the many styles and shapes, form and function of modern bicycles. I also wanted to learn how to draw the spokes, they're quite tricky.
Unlimited edition, comes hand signed.
Dimensions are approximately 29.7cm x 42cm. Hand trimmed, so minor variations.
Shipped in a sturdy cardboard tube.