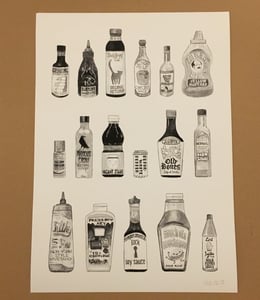 £

15.00
17 lovely bottles. A celebration of sauces, originally rendered with Japanese dip pen and brushed inkwash, then professionally printed on 180gsm Matte, non reflective paper. It's very nice. Will look great on your wall.
Drawn as part of inktober, I wanted to explore the many styles and shapes, forms and fonts, labels and characters of condiment bottles. I love a good looking sauce bottle and enjoy all the names and logos of some of the more fancy brands and artisan producers, so I had some fun designing my own. I'm a bit obsessed with chilli sauce.
A modern classic. Great for food lovers, chilli fanatics and font enthusiasts alike. Will look a treat in your kitchen (or any other room really)
Unlimited edition, comes hand signed.
Dimensions are approximately 29.7cm x 42cm. Hand trimmed, so minor variations.